Vileda PVA Micro cloths
Vileda PVA Micro cloths are 'Simply the Best' . If like me you hate finger marks on glass, then you will need these cloths in your life.
Simply wet the cloth and wring out so that the cloth is just slightly damp, wipe the soiled glass and watch with wonder, the cloth will leave water droplets on the glass and then they disappear completely leaving smear free sparkling glass.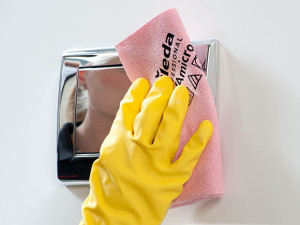 Also can be used on brushed stainless steel , those lift doors need never be streaky again.
The cloths can be laundered in a washing – remember don't use fabric conditioner when washing any micro fibre cloths.