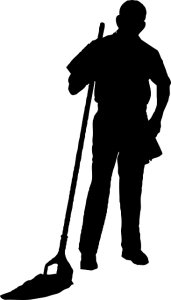 Now we all know that men being bad at cleaning is a bit of a gender stereotype, but don't take our word for it! A survey conducted by Karcher – found that a huge percentage of housewives consider their husbands to be so poor at tidying up, they would rather do it themselves. We take a look at the survey and what men can do to make the house sparkle.
Rubbish with Rubbish
2,000 women were questioned as part of the survey and a huge 52% of said they do not want their husbands doing tasks such as washing up, scrubbing the bathroom or vacuuming. And with 95% of Londoners questioned saying they consider themselves house-proud, it is no surprise that they want certain things done right – even if they have to do it themselves.
60% of women wish that the cleaning was left entirely up to them rather than having to redo the jobs their husbands have just done, and a further huge 65% of women claim to do just that! Most women would like men to help out around the house in other ways, but leave the tidying to the female of the species.
What Women Hate
There are a few jobs that, when done incorrectly, become pet peeves for the women surveyed by Karcher. The top offenders include:
• Pushing the rubbish down further into the bin instead of taking it out,
• Dusting around objects instead of lifting them up to clean underneath,
• Pushing crumbs from surfaces onto the floor instead of straight into the bin,
• Rinsing the shower or bath with water instead of using products to properly scrub it,
• Picking things up off the carpet rather than getting the vacuum out and doing it thoroughly.
Who Cleans, Wins
Although women and men seem to be at loggerheads with regards to a strict cleaning regime, a clean house can sway other people's opinions too. Over half of women say they judge others based on the cleanliness of their house, contributing to the the fact that 90% of those questioned describe themselves as house-proud.
To conclude, it appears as though men need to scrub up on a few cleaning techniques in order to impress the women of the household, in spite of the cliché.
If Karcher's survey has got you in the mood to better your other half's cleaning efforts, take a look at their range of cleaning supplies here.