Best Practice for Interior Window Cleaning
Here at One Stop we pride ourselves on our knowledge of the cleaning industry and cleaning products, which is exactly why we strive to give you the best advice when it comes to cleaning.
Do you ever wonder what the easiest, fastest solution is to cleaning windows in your home? Or maybe you have glass doors within your office that are constantly covered in dirty finger marks and smudges? Even if you can access those 'easy to reach' dirty marks, what about cleaning dust from windows that aren't easy to reach? Well look no further because we have just the product for you!
Vikan Easy Shine Cleaning Kit>
This Vikan Easy Shine Cleaning Kit is a firm favourite with the staff at One Stop, and also a favourite of our customer's! It comes with a telescopic handle which means pesky dust and finger marks in difficult to reach places will be banished forever! Or until you use the cleaning kit again!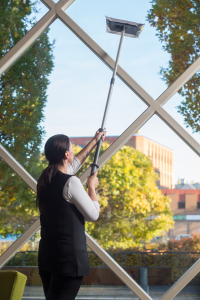 Not only does this product make it easy to reach all areas of windows that you want to clean, but it also gets the job done fast! We know how time consuming cleaning can be, and we all want the fastest option and this product delivers just that! Not only can it be used on windows, but it can also be used to clean mirrors.
Window Cleaning Guide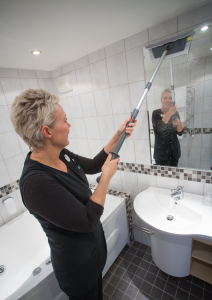 The Vikan cleaning kit is extremely user friendly, we've all tested it at One Stop, and given it the seal of approval! What makes this product even more user friendly is the fact that it cleans exceptionally well just with water. This means you aren't having to inhale harmful chemicals, no matter how pleasant they seem.
Attach a cleaning pad to the head of the mop, securing it on the sections of Velcro on the back of the mop head. Clip the mop head onto the telescopic handle. Fill the supplied trigger spray with tap water and lightly spray the window, or spray the pad connected to the mop head. Once you have sprayed the window, or mop head, you can begin cleaning the window.
Window Cleaning Video
To show you just how easy this product is to use, and the remarkable results it produces, we have created a video demonstrating how to use it!
Have a cleaning problem and not sure how to resolve it? Check out our Product Finder which gives you tips on how to deal with cleaning problems!
On Social Media? Why not like us on Facebook and follow us on Twitter to stay up to date on our latest products and cleaning facts?