If using a ladder is not safe, practical or just too scary then use a telescopic pole instead. It is still possible to clean windows to a very high standard using a pole with a variety of different attachments.
There are 2 types of telescopic poles:
A telescopic pole that can have a washing T Bar & a window squeegee fixed to the end of it.
Water fed poles that deliver purified water through a soft brush directly onto the glass. Please note there is little point in trying to wash & rinse windows wth standard tap water as you will leave water marks all over the glass. Instead, the water you use must have been filtered to the correct level so that it draws the dirt from the surface of the glass & leaves a residue-free sparkling surface when left to dry naturally.
Non-Water Telescopic Pole
Get some cold water in a bucket & put in a good squirt of Unger Liquid this is a highly concentrated detergent made specifically for cleaning windows.
Dip a T-Bar fitted with a window applicator sleeve into the solution
Attach the window applicator onto the end of the pole & then agitate the surface back & forth.
The swap the window washer for a window squeegee & drag the squeege down in overalapping stripes until all the water is removed
Your windows should be sparkling clean & dry.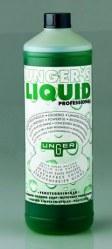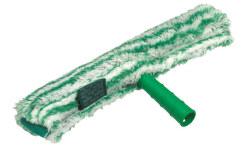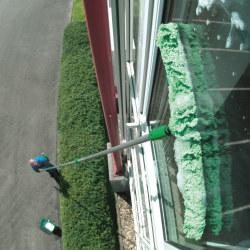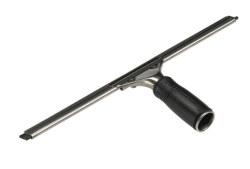 Water Fed Poles

We are in the process of coming up with a kit for the householder. That will be simple to use & well priced. Until we do this please just call us on  0117 3051980 for advice & prices
With regards to the right pure water cleaning kit for a business there are loads of options so again it is best to call us. We currently have a real bargain system that will create 500 litres of clean water per hour.
Call for details 0117 3051980