Clean Using iVo Power Brush Scrubber
Christmas is getting closer and the New Year is around the corner, so why not treat yourself to a new cleaning tool?
The iVo Power Brush is a remarkable invention that makes cleaning an absolute breeze! It is a hand held, battery operated scrubber which cleans everything with ease. There are three different power brush kits available:
Power Brush Light Kit – £64.99 exc VAT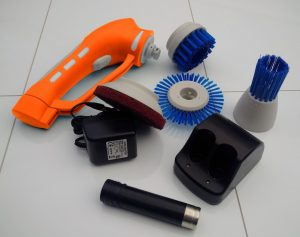 Power Brush Standard Kit –  £97.99 exc VAT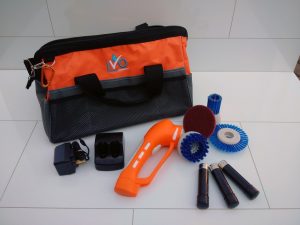 Power Brush Commercial Kit – £146.99 exc VA
The iVo Power Brush Light comes with:
1 x iVo Power Brush
1 x Battery
1 x Nylon Brush and Scrubbing Set
1 x 2 battery charging unit
The iVo Power Brust Standard comes with:
3 x batteries
iVo power brush
1 x Nylon Brush and Scrubbing set
1 x 2 Battery Charging Set
iVo storage bag
And the iVo Power Brush Commercial comes with:
3 x Batteries
iVo Power Brush
1 x Nylon Brush and Scrubbing Set
1 x Large Brush and Buffing Set
1 x Soft Brush and Polishing Set
1 x Stainless Steel Brush Set
10 x Maroon Scrubbing Pads
1 x Battery Charging Set for 2 Batteries
iVo Storage Bag
Versatile, Clean, Scrubber Dryer and Polisher
The best feature of this machine is that it is incredibly versatile! Each kit that is available with the iVo Power Brush has multiple uses.
– The Nylon Brush and Scrubbing set that can be used for: scrubbing non slip flooring, remove scuff marks, clean grout lines, shower glass cleaning, kitchen detail cleaning, clean bathroom detailing, clean wooden surfaces, checker plate surface cleaning.
– The large brush and buffing set can be used for: vehicle cleaning, stone buffing, stainless steel buffing, general cleaning, carpet cleaning, clean outdoors signs, clean kick and push plates, vehicle detailing.
– Soft brush and polishing set can be used for: carpet spot cleaning removal, leather polishing, artificial plant dusting, upholstery cleaning, clean vision panels, detail dusting, dusting and polishing, and machine cleaning.
– Stainless steel brush set can be used for: masonry grout cleaning, tough limescale removal, steel street furniture cleaning, surface preparation, oven cleaning, stone restoration, industrial and machine cleaning, rust removal.
The possibilities with this machine are truly endless and it is sure to make you excited about cleaning! It is a firm favourite with the staff at One Stop Cleaning Shop because it is so user friendly. The fact the Power Brush is cordless, because it's battery operated, means that it can be used almost everywhere, in almost any situation!
The iVo Power Brush works especially well in washrooms, kitchens, canteens, vehicles, as well as many other various locations. You simply secure whichever head you want to use, turn the scrubber on and clean. The heads are easily interchangeable and work exceptionally well. The fact that this product has so many different uses makes it great value for money.
To see the Power Brush in action, watch the short video below. What do you think of the iVo Power Brush? Have you ever used one? Tell us about your experience.
On social media? Why not like our Facebook page and follow us on Twitter?