We all know how daily life can get in the way of many things, but one of those shouldn't be how frequently we clean. This is why we think it's important to create a cleaning schedule if you are the type of person that forgets when and what to clean, and how often to clean certain things.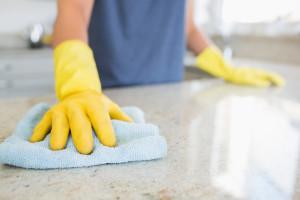 Effective Cleaning Schedules
Take a look at the cleaning schedule below as a guide for how often you should clean.

The bathroom is probably the number one room in the house that gets dirtiest the fastest! Especially if you have many people in your household. In work environments I would recommend cleaning bathrooms just as much, if not more frequently than daily as there is such a large volume of people using the bathroom, it is more hygienic that it is cleaned as frequently as possible to get rid of any harmful bugs.
If you struggle to find the motivation to clean the bathroom as soon as you have got in from work, try getting into the routine of giving it a quick clean at night whilst you clean your teeth and get ready for bed. Keeping a packet of disposable wipes close by when getting ready for bed, could be the savior you need to give your bathroom the quick once over. This way, as you are already in the bathroom, the routine of cleaning at night will be an easy one to pick up. Start by wiping the toilet seat, flush handle, lid and anything else that will come into contact with people and germs. Then before you go to bed, put toilet cleaner into the pan of the toilet and leave it there throughout the night. This means that the toilet will get a thorough clean whilst you aren't having to do anything but sleep!
When it comes to cleaning regular bedrooms, once you have woken up, don't make your bed straight away! Instead, pull the covers back and let your mattress and duvet air. This helps to dissipate any moisture and sweat that has gone into them during the night, meaning that less bacteria will be able to breed in those areas between the next time you clean your bedding.
When it comes to cleaning the kitchen, like the bathroom, this is another room that can harbour a lot of germs and bacteria. Like the bathroom, we recommend that you clean this room daily. If you can't find the motivation to clean it, try to get into the habit of cleaning it after you have prepared dinner. This routine will take out the hassle of having to clean the kitchen off your own back. Start by wiping kitchen surfaces with an antibacterial cleaner and fresh cloth. Make sure you spray the cloth and not the surfaces, as this stops excess use of product. Once you have sprayed the cloth, wipe all surfaces, worktops, sinks and tables with it.
If our tips still make it a chore when cleaning, try putting some music or your favourite TV show on to also keep you occupied whilst you clean. Music definitely gets me through vacuum cleaning, so much so that it's become a cleaning chore I actually enjoy now!
What do you find motivates you the most to clean? Or what helps you through cleaning?