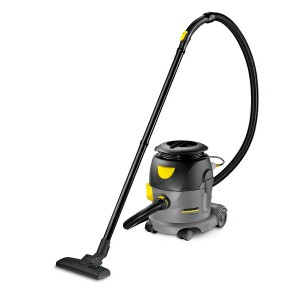 Established vacuum cleaner manufacturer Karcher has been given an award as part of the 2014 Innovation Awards during the ISSA/Interclean exhibition in Orlando, Florida. The award, combined with a brand new product, signals a great deal of success in the forthcoming year.
Karcher High Pressure Cleaner
The new product from Karcher could see large jobs such as cleaning the car or scrubbing the bathroom become a lot simpler with a brand new high pressure cleaner. With 40 times more power than manual cleaning, the cleaner is set to make a huge difference in how cleaning around the home and outside is accomplished.
The machine is not just a time-saving device but can also make a marked change in how much water is consumed during cleaning jobs. Whilst regular cleaning around the house can use up to 2,000 litres, the Karcher High Pressure Cleaner uses just 400 litres per hour making it both effective and better for the environment. High pressure washers have become increasingly popular as more people look to achieve the same high level of cleaning without the back-breaking labour that often comes with a deep clean.
The Karcher High Pressure Washer can be used for a range of indoor and outdoor cleaning purposes, from getting hard-to-shift mud from all areas of the car, to helping get rid of limescale and grime in between bathroom or kitchen tiles. Where there is deep-seated dirt, high pressure cleaners can get rid of it!
Karcher Wins Award for Innovation
Karcher is one of the world's leading names in cleaning products and their range has a machine suitable for every imaginable job, including; carpet cleaners, upholstery cleaners, steam and vacuum cleaners as well as watering systems and electric brooms.
It is this dedication to the industry and continued creativity that earned Karcher a prestigious award during the ISSA/Interclean USA show. The 2014 Innovation Awards were held in five categories, Cleaning Agents, Dispensers, Equipment, Services & Technology, and Supplies and were voted for by a panel of leading industry professionals. Karcher won the Equipment category for its BR 35/12 C Bp, their top quality scrubber drier. The high performance carpet cleaner machine comes with a lithium-ion battery and is recommended for floors with a high footfall, such as retail spaces, offices or even front hallways in the home.
One Stop Cleaning Shop hosts a whole range of products from leading manufacturers, including the award-winning Karcher. Whether it be carpet cleaners, steamers or all of the above, we are proud to stock top quality machinery that is both highly effective and competitively priced.