This week we give you a tour of our online store, detailing some of the products we sell that can make a huge difference to your cleaning regime whether it is industrial or domestic. So come with us and see what great products – and great prices – we have on offer.
Upholstery Cleaning Machines
Now that the cold weather and rain from the winter months has subsided, you may find that your carpets have had layers of mud and dirt walked in to them over the cold months. Now, with spring underway, getting the carpets cleaned and ready for bare feet is the first step to spotless surroundings.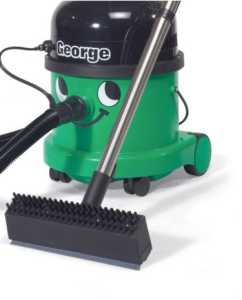 One Stop Cleaning Shop sell a range of upholstery cleaning machines offering a range of power settings to ensure even the toughest dirt can be removed. The George 3 in 1 Cleaner from Numatic GVE370-2 (pictured left) is a lightweight machine from the Henry Hoover family, offering maximum suction with a range of fixtures and nozzles to help get into hard to reach areas of the floor as well as couches and chairs. For larger scale jobs, the Puzzi 10/1 Carpet Cleaner comes with a full set of fixtures and is a brand new model, offering top quality power at a fraction of the normal price, saving over £240 on this particular model. Click to see our full range of upholstery cleaning machines to find out which one is right for your needs.
Upholstery Cleaning Products
Having a quality cleaning machine works best when using in conjunction with high quality cleaning products. We sell a comprehensive range of upholstery cleaning products to help protect fabric while powerfully cleaning it. Our 5L Fabric & Fibre Rinse Prochem is a rinse aid, pH and colour stabiliser which is ideal for use on oriental rugs, wool carpets and natural fibre upholstery products. We also stock a Leather Cleaning Spray and Leather Conditioning Cream which will help clean and protect leather furniture leaving it cleaner without compromising the safety of the fabric. Click here to see the full range.
Industrial Vacuum Cleaners
For large scale commercial cleaning, we have industrial vacuum cleaners from a variety of excellent brands, all at competitive prices. The Numatic NTT2003-2 3600w Industrial Vac 110v is an increasingly popular choice for big jobs as it has an industrial strength galvanised steel drum making it suited to the quick and easy collection of bulky materials.
For metalworking and debris, the NTD572 Twin Motor Commercial Vac 240v offers strength and durability with two high-powered two-stage motors and a Structofoam power head. This machine is perfect for high-level cleaning of industrial grade debris, and is a snip as we offer savings of over £200. See our whole range of industrial vacuum cleaners here.
Wet Vacuum Cleaners
For liquid spillages, wet vacuum cleaners are the first port of call. Able to be used inside and out, wet vacuum cleaners work not just on liquid spillages but are often able to work on dry cleaning needs as well. The Karcher NT70/2 Wet & Dry Vacum Cleaner is a powerful twin-motor vacuum with a 70L capacity. It has strong suction; on-board accessory storage and an integrated drain hose, all tested by Karcher and offered to you at a competitive price.
For those looking to spend a little less and have a smiley face in their cleaning cupboard, the Charles Wet & Dry Vacuum Cleaner CVC370-2 110v is another part of the Henry Hoover family, offering top quality wet vacuuming at a snip of the price. Browse and buy our wet vacuum cleaners here.
For all your cleaning needs, One Stop Cleaning Shop has it all. There is no need to shop around a million stores; we have everything you need in one place. Browse our website today to find every machine and product you need to make this year's spring clean the easiest one yet.