Limescale is not only unsightly, and sometimes difficult to get rid of, but it can actually affect and damage various components inside taps and other areas where there is hard water. A lot of store bought, common cleaners aren't tough enough to tackle limescale, but we have the solution for you!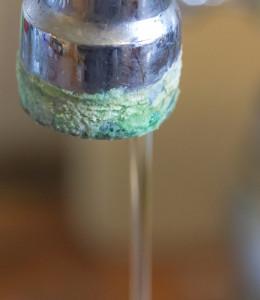 To get rid of limescale we recommend that you use Scaleit.
Scaleit is a sanitary cleaner and descaler meaning it will tackle and remove limescale in absolutely no time at all! It is an ecological cleaner which is Trecos accredited! As well as that it can also disinfect. This product can be used on sinks, toilets, urinals, walls and tiles.
We recommend that precaution is taken when using any cleaning product and that users pay special attention to the health and safety symbols on the backs of all cleaning products.
Scaleit can be diluted to be used in a trigger bottle or in a bucket. For a 600ml trigger bottle we recommend using 30ml of Scaleit and diluting it with water. For a 5L bucket we recommend using 120ml of Scaleit and diluting it with water.
Scaleit can cause severe skin burns and eye damage so make sure that when you are using the product that you are wearing protective gloves. To remove limescale from taps, like in the picture above, we recommend unscrewing the cap from the Scaleit bottle, pouring Scaleit into the cap (making sure it is closed beforehand), and holding the cap up and around the mouth of the tap. Hold the cap there for a few minutes, or however long is needed depending on the extent of limescale on the tap. This constant contact of Scaleit on the limescale allows the acid within the liquid to dissolve the chalky deposit. Once you have held the cup around the tap for an adequate length of time, remove the cup and wipe the tap with a cloth, agitate until the limescale is gone.
For more detailed work around the sink, use a toothbrush as the bristles can penetrate hard to reach areas easily. Just cover the bristles in enough Scaleit to tackle the job. As well as that, the base of taps can also get a buildup of limescale. To combat this limescale just pour some Scaleit around the base of the tap and let the liquid sit there for a couple of minutes before wiping away with a cloth.
Scaleit is safe for use on procelain, stainless steel, chrome, ceramic and tiled surfaces. Scaleit is available in a 1 litre bottle and a 5 litre bottle.
If you have any methods to remove limescale then we would love to know about them!