I-Mop XL Battery Scrubber Dryer
Available in either the "Plus" or "Pro" version (see differences below).
Flexible and fast:
The i-mop XL represents an opportunity for you to dramatically improve your cleaning and maintenance operations while saving you time and money. As a heavy duty auto scrubber, the i-mop will clean floors faster, easier and with better results than you can achieve with traditional wet-mopping. With a 46 cm scrub deck the i-mop XL can be used for small to medium spaces.
Low profile deck:
With a low profile deck of only 7 cm you can clean around and underneath objects, just like a mop. With over 350 RPM and 22 kg of brush pressure, the i-mop cleans efficiently and thoroughly. The i-mop cleans over 1,300 m2 (14,000 sq. ft.) per hour, which is 10 times faster than conventional mopping for greater productivity.
Click on / click off!:
Fill, refill and empty the machine easily. No longer bound to installed filling stations, get your water from a sink in a pinch. Switching between chemicals in a matter of seconds by clicking on a different solution tank. You will be surprised by how water efficient the i-mop is. Good things do come in smaller packages.
Quick exchange i-power battery:
Our quick exchange i-power battery system makes the i-mop a real cleaning workhorse. With 2 sets of i-power 9 your i-mop will never need to take a nap. Clean from 9 to 5 or 24/7 with a single machine. No cords to trip over or get tangled up, just switch on and away you go.
I go where you go:
The i-mop has been designed in such a way that it takes up very little floor space when not being used. Store it in a closet within reach. the i-mop XL is great for route cleaning because it can be easily transported to multiple locations. No problem taking it up steps, on escalators or from building to building in a standard vehicle.
Great cleaning everywhere:
i-mop can clean around people without leaving floors wet, giving the operator total visibility and control in occupied spaces. You can clean underneath tables, serving areas, washroom sinks. Turn 360º on the spot. Clean 10 times faster than with a manual mop while leaving the floor cleaner.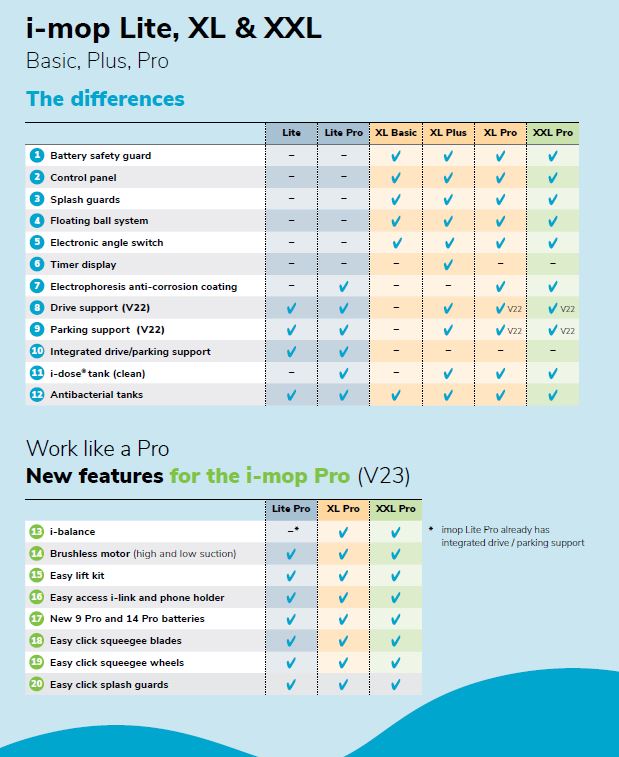 Got some unanswered questions? Read Our FAQs
Application:

Indoor, hard surfaces only

Theoretical performance:

Up to 1800 m2 per hour

Practical performance:

1000 – 1300 m2 per hour

Brush speed:

350 RPM

Brush pressure:

22,5 kg

Operation width:

46 cm

Size machine (l x w x h):

50 x 38 x 120 cm

Weight without batteries:

18.5 kg

Clean water tank:

4 L

Recovery clean tank:

4-6 L (max. 8 L)

Material:

PP, Aluminum alloy

Power source:

2 i-power 9 batteries*

Battery:

24V – 8.8 Ah

Run time:

60-70 minutes on i-power 9 batteries

Charger type:

Off-board

Charger:

110-240V, 50/60Hz