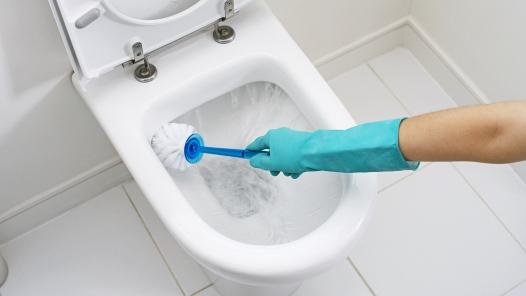 Bathrooms can be a very time consuming to clean, especially if you don't regularly give it a clean here and there. But what if there was an easier, faster way for you to clean your bathroom?
Tips for a Clean Bathroom
To make cleaning your bathroom much easier, we recommend that you start by having all of the products that you want to use in one easily accessible place. Many people keep their cleaning products in their bathroom, others will keep it in a caddy so that it can be easily transported if you have multiple bathrooms.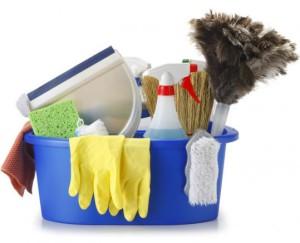 Whether you decide to keep your products in a caddy or in your bathroom, these are the following products that we would recommend you have to hand to clean your bathroom quickly and thoroughly:
A caddy – we recommend this one as not only does it have spaces for your products, but it also has a sieve for you to wring out any mops or cloths you are using.
A cloth to clean mirrors – we recommend the Vileda PVA Micro Cloth as this cloth only needs water to clean mirrors, and it cleans them exceptionally well.
3 cloths to clean surfaces – we recommend the Vileda Breazy Cloth as this cloth has 8 sides that can be used to effectively clean, making it low in cost and also stops waste. They can also be washed up to 15 times! You want to use one cloth to clean the sink, one to wipe the toilet, and one to wipe the bath with.
A sanitary cleaner – we recommend Freshnit as it can be used on so many surfaces in the bathroom; sinks, toilets, showers, walls and floors. This cleaner has been designed to clean, disinfect and leave a pleasant aroma.
A toilet brush – A toilet cleaning brush will help to get into the hard to reach nooks and cranny's that you may not necessarily want to clean by hand (even when wearing gloves!). You must make sure that you also clean the brush regularly, otherwise this defeats the object of cleaning the toilet with a brush!
An empty caddy or bucket – This stop is optional but it may be worth having an empty caddy or bucket with you to put used cloths in the bucket. This means that there will be no cross contamination as once you have wiped the toilet, that cloth will go into the bucket to be cleaned, then you can use a new cloth to wipe the sink etc.
Making sure that you have all of these items to hand will cut down your cleaning time as you will already be prepared.
How To Clean Your Bathroom
Start by clearing the surfaces of your sink from things such as soap and toothpaste.
Then begin by cleaning the mirrors. The Vileda PVA Micro Cloth only needs water (which helps to cut down cleaning time). Wet the cloth and thoroughly wring out the water. Wipe the mirror. The smears will disappear to leave a crystal clear finish.
Scrub the inside of your toilet with a toilet brush.
Once you have finished, spray your cloth with your bathroom cleaner (as this doesn't cause waste from excess use of products). Then wipe the surface with the cloth. Note to always use a different clean cloth when cleaning sinks, toilets and showers/baths to avoid cross contamination.
Once you have finished with your cloth, put it in the empty bucket/caddy to clean later.
These 5 simple steps is all it takes to clean your bathroom quickly and effectively! When it comes to getting rid of limescale, or other types of thorough cleaning in the bathroom, those tasks will take longer. But for a fast, daily or every other day routine, this is the one that will be finished the fastest whilst still keeping your toilet clean and fresh.
Do you have any fast tried and tested cleaning methods? We'd love to know!