No matter how badly a wooden floor has been treated before, it is generally possible to improve its appearance and have it shining as much as it once did.
All you need to use is PDQ and a floor polishing machine.
PDQ is a solvent free, synthetic wax floor maintainer and general cleaner, which also contains an effective bactericide. PDQ is suitable for use on numerous types of flooring, such as vinyl, thermoplastic, linoleum, rubber, asphalt, terrazzo, marble, sealed and unsealed wood, painted surfaces, plastics, laminates and stone. The brilliant thing about PDQ is that it removes soiling and scuff marks exceptionally well from wooden flooring. PDQ also has many uses, it is ideal for cleaning walls, window ledges, skirting boards, doors and even desks. We would recommended to use PDQ in schools, colleges, hotels, offices, airports, factories, shops, shopping centres, ferries, bars, nightclubs and pubs.
Steps to Clean a Wooden Floor
You will need a container of PDQ, a trigger spray, and a high speed floor polisher. A machine with a high rpm, such as 450rpm or 300rpm is what will get your floor sparkling.
Vacuum your floor thoroughly making sure that you pick up any dirt, dust or debris that is on the wooden floor.
Dilute PDQ intro a trigger spray bottle 1 part PDQ to 8 parts water.
Lightly spray the solution onto the floor.
Leave the product on the wooden floor for 30 seconds, for contact time.
Fit a soft white pad onto your floor polisher & dry buff.
 The floor will be clean, dry & will will have a slight sheen.
Here's a picture of a reclaimed parquet floor that was scratched, worn, and covered in spots of tar. This picture was taken after someone at One Stop Cleaning Shop had followed the steps outlined above.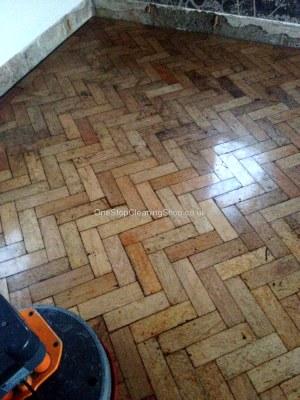 The top left hand corner of the picture is what the floor looked like before the polish and application of PDQ. The centre of the image is what the floor looks like after applying PDQ and using a floor polisher. These are brilliant results in 10 minutes.
Cleaning a Heavily Soiled Wooden Floor
To clean a heavily soiled wooden floor, you will need to use a mop to start with. We recommend something like the Vileda Ultraspeed Mini kit, for small areas, or the Vileda Ultraspeed Professional kit, for larger areas, because these flat mop kits apply an even application of product on the floor.
Dilute 1 part PDQ to 15 parts water in a bucket.
Apply the PDQ solution with a mop to the floor.
Allow the floor to dry.
Polish the floor with a polishing machine.
Always make sure to shake the container of PDQ before use as this product can layer inside the container. Always burnish the floor with a polishing machine after each application of PDQ.
Have you polished a wooden floor with a different method that worked? We would love to know!
Like and follow us on Facebook and Twitter to stay up to date with the latest cleaning news and tips.