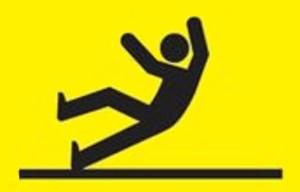 Whatever your particular work setting is – whether you work in a shop, a factory or an office – you're likely to encounter slippery surfaces at some point, so it's not a totally remote possibility that you might come a cropper on one!
Another big risk for many is falling while working at height; falls from ladders are most common, but falls from scaffolding and other platforms can also be dangerous.
Slips and trips account for one in five serious injuries to employees, as well as two fatalities every year. According to HSE statistics, over 600,000 employees were injured in an accident at work in 2015, and slips and trips are the most common cause of injuries at work with over 10,000 workers suffering a serious injury due to a slip or trip last year.
The cost of slips and trips to employers is £512 million a year, with the cost to the health service totalling £133 million.
However, by following our simple safety procedures, the majority of slips and trips can be avoided.
Slips and trips typically occur because of factors such as the following:
Failing to clean a contaminant on the floor.
Leaving clutter in passageways.
Wearing unsuitable footwear.
Use the following tips to help prevent slips and trips in your workplace:
Make arrangements for the clean-up off any spillages promptly.
Any damage to floors or mats needs to be reported promptly, making sure the floors are clean and dry.
Work areas are to be tidy and free from rubbish and debris.
The guys at Coba Europe made a very interesting infographic on workplace slips & trips.

Do you have any interesting stories regarding slips, trips & falls at work?
We'd love to know!


Follow @OSCSuk